The Guinot Story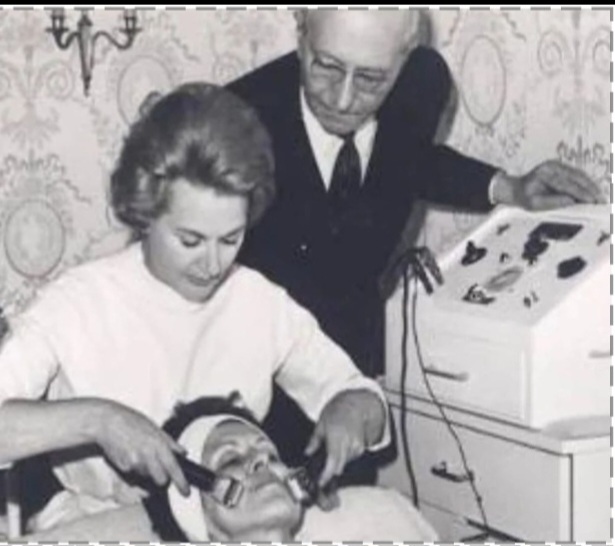 Guinot was founded by chemical engineer Rene Guinot in 1963. Our treatments and skincare products have revolutionized the world of beauty. As an alternative to cosmetic procedures such as Botox, injections, and facelifts, the Guinot Machine is non-invasive, pain-free, and can lift, tone, and firm up every muscle in your face and neck while deep cleansing the skin, hydrating it, and infusing pure oxygen into the deeper layers of the skin. A Guinot Machine-based facial can take years off your appearance while depuffing and detoxing the fluids retained in the face and eyes.
It represents the future of facials and offers the most instant skin improvements available today.
The Guinot Machine can address any skin condition, including acne, pigmentation, ageing, dryness, sensitivity, rosacea, and premature ageing. There is simply no skin that cannot benefit from the Guinot Machine and manual facials.
Hydradermie Facial (60 minutes, €95)
This is a deep cleansing facial suitable for individuals under 30. The Guinot Machine with galvanic rollers works to remove layers of dead skin cells, unclog blocked pores, and address spots. The high-frequency treatment then pushes oxygen deep into the skin's lower layers, facilitating cell rejuvenation. This cellular energy complex leaves the skin bright and radiant. For best results, it is recommended to have this facial every four weeks.
Hydradermie Plus (90 minutes, €115)
This facial is designed for individuals over 30 and incorporates all the elements of the Hydradermie Youth facial. Additionally, it includes advanced anti-ageing serums for both the eyes and neck. These specific steps target the delicate ageing areas around the eyes and neck, leaving the skin radiant and glowing. For optimal results, it is advisable to have this facial every four weeks.
Hydradermie Lift (90 minutes, €125)
The Guinot Machine Facial is like a workout for your face. The face and neck have the most muscles in the body, and this treatment lifts, tones, and firms up the muscles and ageing skin of these areas. It also reduces fluid retention under the eyes and in areas where the skin holds onto excess fluid. This facial leaves the face and neck looking radiant, less puffy, and with an amazing glow. It is very popular for mothers of the bride or groom and brides as well. It is recommended to have this facial once a month.
In the picture, Rene Guinot and his beautician wife are seen working on a client using the first-ever machine he invented for facials in 1963. Today, his most updated and newest machine with the cellular ageing complex is used by Beauty Doctor Emer O'Callaghan on her clients for Guinot facials.
All Guinot treatments and products are science-led and professional grade. They are exclusively available through Guinot stockists, who must meet the highest standards and undergo training to be certified Guinot stockists. To become a Guinot stockist, you must be a skin specialist and a certified beauty doctor, as Guinot is a professional skincare brand. Guinot products are not available online and can only be purchased from fully certified and trained stockists who can also provide prescriptions.
Science leads the way, and in 1986, a nutrient complex called Cellular Life Complex was formulated with astounding healing properties. This complex is still used today in the burns units of hospitals in France to treat burn victims. It is also a key component in many Guinot products, helping to naturally slow down the ageing process without the need for cosmetic injections or surgery.
Guinot treatments and skincare products offer a safe, pain-free alternative to cosmetic surgery, Botox, and anti-ageing injections.
AN ALTERNATIVE TO COSMETIC WORK WITH GUINOT
At Emerald Beauty Clinic, Emer is passionate about helping clients age naturally without altering their own natural beauty, which can happen when people choose the cosmetic route. Emer O'Callaghan is one of the very few in the beauty industry today who has not undergone Botox, injections, or any cosmetic work. She maintains her youthful and radiant appearance by having a Guinot Facial every month and using the full range of professional skincare products to nourish and hydrate her skin naturally.